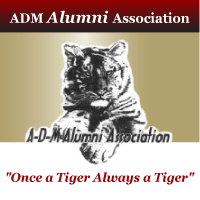 Courtesy of the Adel Alumni Association:
The ADM Alumni Association is celebrating 20 years of service to the ADM Alumni community in 2017.
A generous donation from a successful joint class reunion, "The 1996 Cornstalk Reunion", got the group off the ground and shortly after enthusiasm took hold with a group of Alumni who had a strong vision to serve fellow classmates.
Of the eleven founding members, six original members still serve on the board today. The current board represents Alumni graduating from 1958 to 2003.
Being "in business" for 20 years has allowed the group to accomplish an impressive amount.
The Association maintains a database of Alumni and creates a bi-annual newsletter to reach members.
They maintain an informative website and Facebook page displaying Alumni content. The group hosts an annual Alumni golf outing and reunion and supports the ADM Athletic Hall of Fame subcommittee.
The group's welcome banners line the Adel streets every Summer. A Senior composites display case located in the high school commons is a product of the Association. They're proud to have created an Alumni Veteran's Memorial, also on display in the school.
The group looks forward to supporting future special projects within the growing ADM Community while continuing to be a base resource in keeping all Alumni connected and informed.
Members make it possible for the ADM Alumni Association to give back to the school and community they love. They encourage all Alumni who are not yet members to join by visiting admalumni.com
Thank you for 20 great years! Once a Tiger, Always a Tiger!
The ADM Alumni Assn Board
Founding Members:
Dick Wicks, Vice-President, 1972; Barb (Hackney) Wicks, Secretary, 1972; Jim Peters, Treasurer, 1971; Lynn (Reich) Loynachan 1965; Tana (Oberwetter) Belgarde 1970; Kris (Peterson) Manning 1969;
Additional Board Members:
Nate Hawkins, President 1999; Alicia (Whisner) Fisher 2003; Dana (Brenner) Brown 2002; Melody (Cook) Marshall 1977; Lindsey (Fuller) Grife 2001; Barb (Brown) Trier 1974; Dave Moyer 1969; Ron Gilliland 1958; Matt Hemphill 1998; Kristi (Tryon) Fuller 1990; Linda (Stephen) Clark 1973; Melissa (Wicks) Doyle 2002.
ADM Alumni Association
P.O. Box 122
Adel, IA 50003
Website: admalumni.com
Email: info@ADMAlumni.org