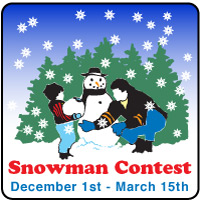 Courtesy of the Adel Parks and Rec Dept
The Adel Parks and Recreation Department will once again hold it's Annual Snowman Contest.
Take your family to any Adel City Park between December 1st and March 15th.
Build a snowman, take a picture of it, and email or deliver it to the Adel Parks and Recreation office.
At the end of the contest, a family sized pizza will be awarded to the winning family.
Nick Schenck
Parks/Rec. Director
Adel, Iowa 50003
Phone: (515) 993-4525
Email: nschenck@adeliowa.org
Website: www.adeliowa.org