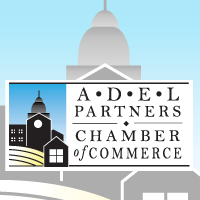 Adel Partners Chamber of Commerce:
Residents will have the opportunity to share their ideas for improving Adel at a design workshop hosted by the Adel visioning committee at the First Christian Church on Thursday, May 25.
This workshop is the culmination of an input-gathering process to identify transportation needs and opportunities for enhancements in Adel.
Information collected at public input gathering events conducted earlier this spring will be incorporated into a conceptual transportation and landscape enhancement plan.
A design team will be working at the First Christian Church, 218 N. 9th Street, throughout the workshop to develop a conceptual plan that meets the goals and needs of Adel.
The public is invited to stop in between 1:30pm and 6:30pm to provide input on the designs. Results from focus group workshops and the community transportation survey will also be available.
The workshop will conclude with a review of the preliminary designs created during the workshop. The review is from 6:30pm to 7:00pm at the First Christian Church and is open to the public.
To learn more about participating in the design workshop, please call Deb Bengston at (515) 993-5472 or Leslie Berckes, Trees Forever field coordinator, at 515-681-2295.
The Iowa's Living Roadways Community Visioning Program is sponsored by the Iowa Department of Transportation in partnership with Iowa State University Extension Landscape Architecture and Trees Forever.
View the Adel Design Workshop Flyer.

Adel Partners Chamber of Commerce
PO Box 73, 301 S.
10th Street, 2nd Floor
Adel, IA 50003
Email: chamber@AdelPartners.Org
Website: www.adelpartners.org
Facebook: AdelPartnersChamberOfCommerce