The Adel Public Library is thrilled to receive a grant from the Dallas County Foundation which provides the funds for a new floor to be installed in our Community Room! Thanks to our Friends Foundation for their matching funds.
The library has been blessed to receive additional grant funds from the Adel Rotary Club which has allowed us to purchase more Playaway Launchpads.
These tablets are designed for library circulation and pre-loaded with learning apps and games grouped by subject area, theme, age, and grade level.
The Launchpads have been widely popular and we're excited to see them in the hands of so many patrons as they make learning fun!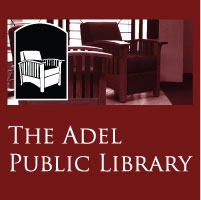 Library Hours:
Mondays and Fridays, 10 a.m. to 5 p.m.
Tuesdays through Thursdays, 10 a.m. to 7 p.m.
Saturdays, 10 a.m. to 1:30 p.m.
Adel Public Library
303 S. 10th Street
Adel, Iowa 50003
Phone: 515-993-3512
website: www.Adel Public Library