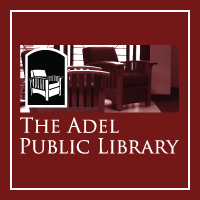 Courtesy of the Adel Public Library
The Adel Public Library is proud to announce that we have a new Early Literacy Station, provided by Wells Fargo Bank of Adel!
The literacy station has an imaginative interface that encourages exploration through 50 education games and software.
It is designed for children ages 2-10 and offers children a safe, standalone computer not connected to the Internet.
It is age appropriate, engaging, and academically relevant for children.
In a highly competitive and global world, it is very important for the children of our community to have strong literacy skills.
Teaching and helping children to be literate at a young age is the key to their success.
The literacy station focuses around 8 curricular areas including reading, math, science, social studies, and art.
The games themselves are fun to play and feature Sesame Street, Dora the Explorer, Encyclopedia Britannica, My Amazing Human Body and Arthur.
Check out the new system the next time you visit the Adel Library!
Adel Public Library
310 S 10th St.
Adel, Iowa  50003
Phone: (515) 993-3512
Website: www.adelpl.org