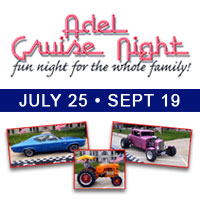 Come out to downtown Adel on the Square for Adel Cruise Night – Fun Night for the Whole Family!
All historic or late model vehicle including Cars, Motorcycles, Tractors, Trucks, Race Cars are invited to attend.
July 25th • September 19th
4:00 pm – 9:00 pm.
The Knights of Columbus will be serving burgers. View the flyer.
For more information contact:
Jim Copeland – (515) 240-9960
Chad Leonard – (515) 202-5468
Steve Greenslade – (515) 360-9262