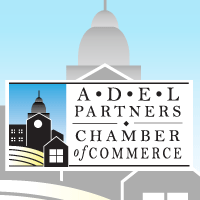 Adel Partners Chamber of Commerce:

For Immediate Release – May 29, 2015
Chamber Director Karina Ward will be stepping down from her position effective June 12, 2015 to pursue an opportunity in her hometown of Milwaukee, WI.
The Chamber Board is working with Karina to manage this time of transition and has started the search for a new chamber director.
The Chamber office will be operating with part-time staff and support from the Chamber Board until the director position is filled. No changes are anticipated to the services provided to Chamber members or to upcoming events.
In a letter to Chamber members, Doug Zeigler, Board President of the Adel stated that Karina has been an invaluable, motivated leader for the Chamber and the Adel community.
Under her leadership, the Chamber transitioned to a full-time staff with a renewed focus on community and economic development. She was instrumental in the City of Adel's $1 million facade project in both receiving the $500,000 grant from the Iowa Economic Development Authority and leading the project team.
"While we are sorry to see her go, we are so very fortunate to have benefited from Karina's leadership. We wish Karina the best of luck in her future endeavors and sincerely appreciate everything she has done for the Chamber and the Adel community. She has brought a sense of energy and enthusiasm to the Chamber that will be hard to replace," said Zeigler.
~
Adel Partners Chamber of Commerce works with local businesses and organizations to improve the quality of life, create a sense of community, preserve the rich heritage and strengthen the economic resources of the Adel area. Through community involvement, along with directed growth, Adel has a sense of pride, accomplishment and security looking forward to an optimistic future of continuing improvement of quality of life.
Adel Partners Chamber of Commerce
PO Box 73, 301 S.
10th Street, 2nd Floor
Adel, IA 50003
Email: chamber@AdelPartners.org
Website: www.adelpartners.org
Facebook: AdelPartnersChamberOfCommerce