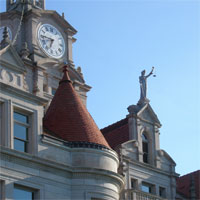 Adel and Dallas County Agreement for Administrative Facilities
Population growth and the demand for county services in Dallas County, Iowa, have created a need for new Dallas County administrative and public safety facilities.
Several months ago, at a special election, a proposal to place these facilities three miles east of down town Adel and away from the business district failed to pass by a large plurality.
The City of Adel and Dallas County, therefore, have agreed to participate in the selection, acquisition, and preparation of a new administrative building near downtown Adel.
The agreement is proceeding pursuant to Iowa Code Chapter 28E and contemplates contributions of funds from both the City of Adel and Dallas County.
The Adel City Council, on June 2, 2014, approved the agreement. On June 3, 2014, the Dallas County Board of Supervisors made a similar decision.
Adel Mayor James Peters and Dallas County board of Supervisors Chair Kim Chapman are supportive of the project and the spirit of cooperation between the two governmental bodies.
Brett Klein
City Administrator
City of Adel
301 S. 10th Street
Adel, Iowa 50003
Phone: (515) 993-4525
Fax: (515) 993-4527
Website: www.adeliowa.org