Community Calendar Events
[ November 30, -0001 12:00 am to April 23, 2015 7:00 pm. ]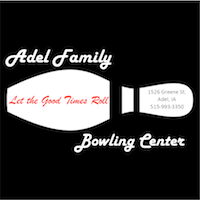 Courtesy of the Adel Family Fun Center:
Summer 9-Pin League at the Adel Family Fun Center.
Super fun and totally affordable!
Every Thursday evening at 7 pm for 10 weeks! 2 person teams for just $12 per week per person!
Happy Hour drink specials from 4-7 pm and 2-4-1s after league in Continue reading →
[ February 1, 2012 8:00 am to February 29, 2012 4:00 pm. ]
Courtesy of the Cedar Creek Animal Clinic
In support of National Dental Month, Adel's Cedar Creek Animal Clinic is offering a Free Dental Exam during the month of February.
Schedule your pet's exam today at our Adel office by calling 515-993-3410.
In addition to a Free exam, we are offering a discount on most dental products, including Greenies and CET products!
Did you know? ...
[ February 10, 2012; 8:30 am to 3:30 pm. ]
Courtesy of Adel Parks and Recreation
Bundle up and sign up now for Adel's 2nd Annual Frozen Field Slow-Pitch Softball Tournament!
This special adult softball tournament will be played on the Kinnick-Feller softball fields Saturday, February 18th regardless of weather conditions!
The deadline for team registration is Friday, February 10th.
The cost is just $30.00 per team.
So grab your friends, your glove, and your scarf and sign up today!