Community Calendar Events
[ November 30, -0001 12:00 am to April 23, 2015 7:00 pm. ]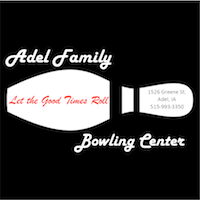 Courtesy of the Adel Family Fun Center:
Summer 9-Pin League at the Adel Family Fun Center.
Super fun and totally affordable!
Every Thursday evening at 7 pm for 10 weeks! 2 person teams for just $12 per week per person!
Happy Hour drink specials from 4-7 pm and 2-4-1s after league in Continue reading →
[ February 5, 2012; 11:00 am; ]

Courtesy of Keasey's Hideaway Lounge:
Keasey's Hideaway Lounge in Adel, invites you to "SuperBowl Sunday" February 5th, at 11:00 a.m.
Come in and watch your team!
Free food and .50 off all beer and mixed drinks during pre-game!
Follow us on Facebook!
[ February 5, 2012; 8:00 am to 12:00 pm. ]
Courtesy of Adel United Methodist Church
Join us for breakfast on February 5th on Super Bowl Sunday!
We want to give you the first burst of energy for this big day.
We will be serving in fellowship hall from 8 a.m. until Noon.
Biscuits and gravy, sausage links, pancakes, scrambled eggs, muffins, milk, orange juice and coffee.
[ February 5, 2012; 10:00 am to 4:00 pm. ]

Courtesy of Adel Quilting and Dry Goods
Visit Adel Quilting & Dry Goods Co. February 5th, for the Annual Super Bowl Sunday Fat Quarter Extravaganza!
Fat Quarters will be on sale for 20 for $40 (regularly price, $3 each).
Wear in your favorite team jersey for a 15% discount on all other purchases.
Hours are 10:00 a.m. to 4:00 p.m.
[ February 1, 2012 8:00 am to February 29, 2012 4:00 pm. ]
Courtesy of the Cedar Creek Animal Clinic
In support of National Dental Month, Adel's Cedar Creek Animal Clinic is offering a Free Dental Exam during the month of February.
Schedule your pet's exam today at our Adel office by calling 515-993-3410.
In addition to a Free exam, we are offering a discount on most dental products, including Greenies and CET products!
Did you know? ...