Community Calendar Events
[ November 30, -0001 12:00 am to April 23, 2015 7:00 pm. ]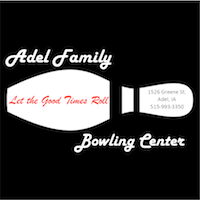 Courtesy of the Adel Family Fun Center:
Summer 9-Pin League at the Adel Family Fun Center.
Super fun and totally affordable!
Every Thursday evening at 7 pm for 10 weeks! 2 person teams for just $12 per week per person!
Happy Hour drink specials from 4-7 pm and 2-4-1s after league in Continue reading →
[ October 16, 2010; 4:00 pm; October 17, 2010; 4:00 pm; ]
Courtesy of Adel United Methodist Church
The Adel United Methodist Church will be showing a free premiere of the Twentieth Century Fox movie "I Am."
This dramatic, artistic film will be shown in the worship center at 4pm on Saturday and Sunday October
[ October 1, 2010 to October 31, 2010. ]
Is your automobile ready for another Iowa winter?
This is the time to schedule your vehicle for a oil change and tune up before the weather takes a turn!
All October long, T&T Auto will perform an oil change for $27.95.
This includes having all the  fluids topped-off, inspection of the air filter, and check of the tire pressure.
T&T Auto also offers
[ October 17, 2010 to October 23, 2010. ]
Courtesy of the Adel Public Library
Celebrate Teen Read Week October 17th-23rd at the Adel Public Library!
Teen Read Week is a national literacy event dedicated to getting teens, their families, and the greater community to recognize how important it is to read for fun.
On October 18th at 4pm there will be a Teen Halloween Fest where participants can make