Community Calendar Events
[ October 6, 2010 9:00 am to October 9, 2010 8:00 pm. October 10, 2010; 1:00 pm to 4:00 pm. ]
Courtesy of Adel Quilting and Dry Goods
Adel Quilting and Dry Goods would like to welcome participants of the American Quilter's Society and AQS Show!
In honor of this great quilting event, Adel Quilting and Dry Goods has extended the shop hours.
The store will now be open from
[ October 8, 2010 8:00 am to October 15, 2010 6:00 am. ]
The DiscoverAdel.com Where in Adel is Terry? Facebook contest is running again October 8-15th!
This time, Terry will be at Adel Healthmart on the downtown square!
Stop in and take a photo with Terry. Then upload the image to Facebook and make sure to tag Terry. Don't Facebook? No problem! Email DiscoverAdel to enter instead!
All participants with a photo by
[ October 10, 2010; 7:00 am to 1:00 pm. ]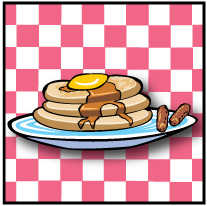 Come out to Adel and enjoy a great, affordable breakfast!
Join the Adel Masons for the Second Sunday Breakfast on Sunday, October 10th from 7am- 1pm.
The breakfast will include pancakes and sausage, made to order omelets, and everyone's favorite, biscuits with homemade sausage gravy.
The OES will be having a bake sale this month.
Cost for adults ages 12 and up is only $5. Kids under 12
[ October 1, 2010 to October 31, 2010. ]
Is your automobile ready for another Iowa winter?
This is the time to schedule your vehicle for a oil change and tune up before the weather takes a turn!
All October long, T&T Auto will perform an oil change for $27.95.
This includes having all the  fluids topped-off, inspection of the air filter, and check of the tire pressure.
T&T Auto also offers
[ October 4, 2010 to October 15, 2010. October 22, 2010; 9:00 am to 4:30 pm. ]
Courtesy of the Adel Public Library
Cari Bilyeu of "Cookie Creations" is helping the Adel Public Library by offering cookies decorated for Halloween at $5 per dozen.
Cookies may be ordered Monday, October 4th through Friday, October 15th at the library or call (515) 993-3512.
The Friends of the Library will meet on Thursday, October 7th at 6:30pm in the library community room to make plans for the bake sale. New members are