Community Calendar Events
[ November 30, -0001 12:00 am to April 23, 2015 7:00 pm. ]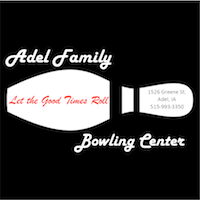 Courtesy of the Adel Family Fun Center:
Summer 9-Pin League at the Adel Family Fun Center.
Super fun and totally affordable!
Every Thursday evening at 7 pm for 10 weeks! 2 person teams for just $12 per week per person!
Happy Hour drink specials from 4-7 pm and 2-4-1s after league in Continue reading →
[ October 8, 2010 8:00 am to October 15, 2010 6:00 am. ]
The DiscoverAdel.com Where in Adel is Terry? Facebook contest is running again October 8-15th!
This time, Terry will be at Adel Healthmart on the downtown square!
Stop in and take a photo with Terry. Then upload the image to Facebook and make sure to tag Terry. Don't Facebook? No problem! Email DiscoverAdel to enter instead!
All participants with a photo by
[ October 9, 2010; 3:30 pm to 11:00 pm. ]
Get ready to polka Saturday, October 9th with Adel's first Oktoberfest!
This fun fall festival is now open for all ages starting at 3:30pm at the Adel Stage and Pavilion!
Join us for
[ October 1, 2010 to October 31, 2010. ]
Is your automobile ready for another Iowa winter?
This is the time to schedule your vehicle for a oil change and tune up before the weather takes a turn!
All October long, T&T Auto will perform an oil change for $27.95.
This includes having all the  fluids topped-off, inspection of the air filter, and check of the tire pressure.
T&T Auto also offers
[ October 9, 2010; 8:00 am to 4:00 pm. ]
Join us for the 1st Annual Nile Kinnick Fall Flea Market to take place Saturday, October 9th at Harvey's Floral Company in Adel!
The market will start at 8am, rain or shine, and offers 23 different vendors selling anything from Antiques, Crafts, Farmer's Market Baked Goods, Farm Tools, and more.
This family friendly fall market has fun activities for the kids including games and a Pumpkin Patch brought
[ October 4, 2010 to October 15, 2010. October 22, 2010; 9:00 am to 4:30 pm. ]
Courtesy of the Adel Public Library
Cari Bilyeu of "Cookie Creations" is helping the Adel Public Library by offering cookies decorated for Halloween at $5 per dozen.
Cookies may be ordered Monday, October 4th through Friday, October 15th at the library or call (515) 993-3512.
The Friends of the Library will meet on Thursday, October 7th at 6:30pm in the library community room to make plans for the bake sale. New members are
[ October 9, 2010; 4:00 pm to 11:00 pm. ]
In Germany, Oktoberfest is a 16-day festival of beer, polka, great food, and lots of fun. In October the Chamber of Commerce brings this old world tradition to the historic brick streets of Adel!
We spoke with organizer Rob Burditt to find out more about this new, over 21 adult festival.
Q. When is Oktoberfest?
It will be held Saturday October 9th at the Adel Community Stage & Pavilion. Please walk to the event or have a designated driver.
This is a new event to the community, however I think when the brewery