Community Calendar Events
[ November 30, -0001 12:00 am to April 23, 2015 7:00 pm. ]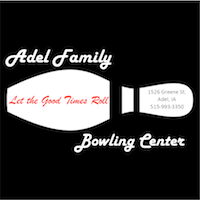 Courtesy of the Adel Family Fun Center:
Summer 9-Pin League at the Adel Family Fun Center.
Super fun and totally affordable!
Every Thursday evening at 7 pm for 10 weeks! 2 person teams for just $12 per week per person!
Happy Hour drink specials from 4-7 pm and 2-4-1s after league in Continue reading →
[ October 1, 2010 to October 31, 2010. ]
Is your automobile ready for another Iowa winter?
This is the time to schedule your vehicle for a oil change and tune up before the weather takes a turn!
All October long, T&T Auto will perform an oil change for $27.95.
This includes having all the  fluids topped-off, inspection of the air filter, and check of the tire pressure.
T&T Auto also offers
[ October 4, 2010 to October 15, 2010. October 22, 2010; 9:00 am to 4:30 pm. ]
Courtesy of the Adel Public Library
Cari Bilyeu of "Cookie Creations" is helping the Adel Public Library by offering cookies decorated for Halloween at $5 per dozen.
Cookies may be ordered Monday, October 4th through Friday, October 15th at the library or call (515) 993-3512.
The Friends of the Library will meet on Thursday, October 7th at 6:30pm in the library community room to make plans for the bake sale. New members are
[ October 6, 2010; 10:00 am to 1:00 pm. ] Courtesy of the Adel Public Library
An Artisans' Workshop will be held Wednesday, October 6th from 10 am to 1 pm in the library community room.
This is a reoccurring event on the first Wednesday of each month.
Artists of all types are invited to bring their projects to work on!
Enjoy creating with others, sharing ideas, and learning [...]