Community Calendar Events
[ September 27, 2010 to October 1, 2010. ]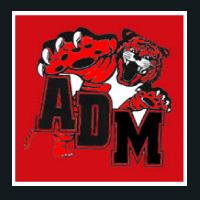 ADM Tigers celebrate homecoming this year by "Building New Traditions."
Wear your red and black  and join us Thursday, September 30th for the Powder Puff Football game between the Junior and Senior classes starting at 7pm.
Admission will be one non-perishable food item for donation to the local food pantry.
Coronation of this year's
[ September 28, 2010; 5:30 pm to 7:30 pm. ]
REM Iowa Developmental Services in Adel is excited to announce they will be hosting the Adel Partners Chamber of Commerce After Hours Event on September 28th from 5:30- 7:30pm.
Community members and local businesses are invited to see the program and meet the individuals that make this great organization thrive.
REM is a valued asset to Adel and our surrounding communities. So mark your calendars for
[ September 21, 2010 to September 30, 2010. ]
Courtesy of Adel Flowers and Gifts
Adel Flowers & Gifts is concluding the "Making A Difference" promotion September 30th.
Stop by the store and enter the name of someone whose day you would like to brighten! At the end of the month a name will be drawn to win a flower arrangement delivery!
Adel Flowers and Gifts will also hold a drawing September 30th for a chance to win
[ September 12, 2010; 7:00 am to 3:00 pm. ]
Updated as of 9/10/2010: The City of Adel announced today that a portion of the downtown business district will be without water service for a short period on Sunday, September 12th due to planned upgrades to the water system.
Water will be shut off in the Downtown District from approximately 7:00am until around 3:00pm.
9/10/2010: City Administrator Chad Bird states, "One of the biggest problems this project is causing is one
[ September 12, 2010; 7:00 am to 3:00 pm. ]
The City of Adel announced today that a portion of the downtown business district will be without water service for a short period on Sunday, September 12th due to planned upgrades to the water system.
This was originally planned for Saturday but has been changed. Please plan accordingly.
The improvements are part of the Brick Street Rehabilitation project and are being coordinated through the City's engineer, McClure Engineering Company. The work involves upgrading and extending a water service main line from 4" to 8" and the line will be installed under 9th Street on
[ September 1, 2010 to September 20, 2010. ]
Courtesy of Eason Portrait Gallery
Attention Class of 2011! Eason Portrait Gallery is at it again, offering great discounts on sitting fees for the month of September!
Receive 75% off your sitting fees if you schedule your session by September 30th, 2010. You do not need to be photographed in September, just have your portrait date booked by then.
Photographer Trey Eason graduated with an emphasis in Photojournalism. This unique prospective shines through his photography, creating one of a kind images. Visit the website to see Trey's portfolio full of Senior images, wedding photos, commercial photography and
[ September 28, 2010; 6:30 pm to 8:30 pm. ]
The last time you tried to feed your preschooler broccoli did they turn up their nose? Are you finding it hard to get them to eat healthy?
Parents and caregivers can learn new techniques with the Dallas County ISU Extension office as they present "Color Me Healthy-Food Colors and Health" September 28th from 6:30-8:30pm.
"Color Me Healthy" shares the health benefits of fruit and vegetable color groups with 10 fun activities to increase
[ September 12, 2010; 10:30 am to 12:30 pm. ]
Grace Lutheran Church in Adel will be holding their 4th Annual Danish Brunch Sunday, September 12th from 10:30am- 12:30 pm.
The brunch will consist of Aebleskiver (Danish pancakes), homemade Rullepolse (Danish beef lunch meat), Frikadiller (Danish meatballs), Smorrebrod (made with authentic Danish rye bread), Scrambled eggs, Egg salad, Havarti cheese, Danish cucumbers, Pickled Herring and
[ August 31, 2010 to September 9, 2010. August 31, 2010 to September 9, 2010. ]
Call now and order your September ribs!
Order by Thursday, September 9th.
Pick up Saturday, September 11th Hot off the Smoker between 4pm - 6pm.
Order ½ Rack - $11.00 or Full Rack - $19.00
Price includes 2 sides and fresh baked corn muffins and dessert!
Now you can order your ribs
[ August 30, 2010 to September 13, 2010. ]
Kayla Hawkins of the Russell House B&B and Tea Room is organizing the 1st Annual Nile Kinnick Fall Flea Market to be held October 9th, 2010 at Harvey's Greenhouse and Garden Center here in Adel!
Kayla has already secured 9 vendors and is looking for more. Vendors of all types are welcome to sign up for this first time event.
Those interested in participating may fill out the
[ September 19, 2010; 4:30 pm; ]

On August 8th, firefighters forced their way into Larry and Sandy Schmidz's home and were able to get the couple out of the house 60 seconds before the roof collapsed.
The Schmidz family, friends and neighbors wish to thank the Adel Fire Department for their quick response and deligent work.
We are asking for your help in creating a successful fundraiser so that the department may purchase additional structure fire fighting equiptment.
Please join us Sunday, September 19th as we host a Community Fundraiser and Appreciation Dinner at the ADM Middle School 215 North 11th in Adel, Iowa, beginning at 4:30pm.
Dinner will be catered by Italian Villages of Adel and a presentation will be made by Chief Matt Ireland of the Adel Fire Department.
G.Rafics Inc. is producing a website in honor of the event, www.adelfire.com. There you will find a photo gallery, Guest Book, Silent Auction Items, and more! The full site will be available Friday, August 27th.
A silent auction will be held from 4:30-6:30pm. If you would like to donate items for the silent auction or make donations for the dinner, auction, and door prizes, please drop them off at the Adel Family Dentistry office, 1126 Greene Street in Adel or call for pick up.
To find out more about this great event, please contact Erin Sedars at 993-3701 or by email at afd@qwestoffice.net.
[ September 7, 2010; ]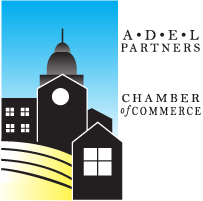 Courtesy of Adel Partners Chamber of Commerce
The Adel Partners is made up primarily of volunteers that selflessly give hours and efforts for the betterment of our community.
Please take a few minutes to nominate your choice for both the Community Volunteer and Chamber Volunteer of the Year awards.
Nominations are due by
[ September 7, 2010; 6:30 pm to 8:30 pm. ]
The Dallas County ISU Extension office offers tons information for parents, providers, teachers,and community members.
In the program "Who Leads, Who Follows" presented September 7th from 6:30-8:30 pm, learn more about nutrition through Feeding and Physical Activity, a Division of responsibility in Child Care.
To find out more
[ August 31, 2010 10:00 am to September 10, 2010 5:00 pm. ]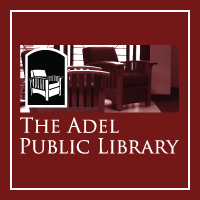 Join us at the Adel Public Library's Silent Auction!
Bidding begins Monday, August 31st at 10am and will end Friday, September 10th at 5pm.
Place your bids in the special book provided.
Make sure to check back often to see if you have been outbid!
Phone bids will be accepted until