Community Calendar Events
[ November 30, -0001 12:00 am to February 9, 2013 3:00 pm. November 30, -0001 12:00 am to February 8, 2013 3:00 pm. ]
Adel and Dallas County memorabilia will be featured at  Antiques on Ninth (Cameo Rose Building)  from 10:00 a.m. - 3:00 p.m. this weekend.
February 8th - 9th
Other antiques and collectibles will also be on sale. Continue reading →
[ June 11, 2010 8:00 am to June 13, 2010 5:00 pm. ]
Registration for the second annual Tour The Raccoon bicycle tour is now available! Tour organizers hope to have 250 bike riders using the full Raccoon River Valley Trail June 12-13.
Each community along the trail will have special activities for riders to attend, with overnight accomedations in Jefferson during the Bell Tower Festival.
Tour the Raccoon is sponsored by the Des Moines Cycle Club.
Find out more at the Raccoon River Valley Trail Association website!
[ June 11, 2010; July 9, 2010; ]
Youth Lessons begin in mid-June.
Registration is due by June 11th!
Adult Lessons begin in mid-July.
Registration is due by July 9th!
Nick Schenck
Parks & Rec Director
nschenck@adeliowa.org
(515)993-4525
[ June 11, 2010 6:00 pm to June 12, 2010 6:00 am. ] Come out and support the American Cancer Society June 11th-June 12th from 6pm to 6am at the ADM High School Track.
Opening ceremony will start at 6pm followed by the survivor lap.
The Dallas Co. Beef Council will be serving supper.
Bring your family and enjoy the Kids Carnival at 7pm!
Relay for Life is the main volunteer-driven cancer fundraising event of the [...]
[ June 11, 2010; 7:00 pm; ]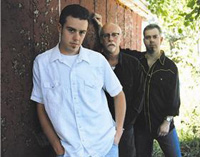 Matt Woods and the Thunderbolts will be playing at the Penoach Winery Friday, June 11 at 7 pm.
Bring your lawn chairs and enjoy a bottle of wine with your friends and family while listening to the award winning, traditional blues sound.
No admission charged!