Courtesy of Penoach Winery: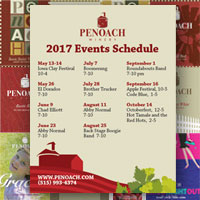 Start your Summer off with a trip to Adel's Penoach Vineyard | Winery | Nursery to sample some great wines and to listen to some great music.
Bring a lawn chair and a friend and get ready to kick off the summer at the winery.
Have your Penoach Winearita blended for you to enjoy at the concert.  
Penoach Winery  Summer Concerts:
May 13-14, Iowa Clay Festival, 10:00 am – 4:00 pm
May 26, El Dorados, 7:00 pm – 10:00 pm
June 9, Chad Elliott, 7:00 pm – 10:00 pm
June 23, Abby Normal, 7:00 pm – 10:00 pm
July 7, Boomerang, 7:00 pm – 10:00 pm
July 28, Brother Trucker, 7:00 pm – 10:00 pm
Aug 11, Abby Normal, 7:00 pm – 10:00 pm
Aug 25, Back Stage Boogie Band, 7:00 pm – 10:00 pm
Sept 1, Roundabouts Band, 7:00 pm – 10:00 pm
Sept 16, Apple Festival, 10:00 am – 5:00 pm
Code Blue, 1:00 pm – 5:00 pm
Oct 14th, Octoberfest, 12:00 pm – 5:00 pm
Hot Tamale and the Red Hots, 2:00 pm – 5:00 pm
Penoach Winery
26759 N Ave.
Adel, Iowa 50003
Phone: (515) 993-4374
Website: www.penoach.com
Facebook: facebook.com/pages/Penoach-Vineyard-Winery