Adel Partners Chamber of Commerce:

The Adel Partners Chamber of Commerce has selected Jan Price as the Grand Marshal of the 2017 Adel Sweet Corn Festival Parade.
Jan was raised in the Adel area and graduated from Adel High School in 1953. Then she attended UNI and was a teacher for 37 years.
Upon retirement, husband Don and Jan returned to her hometown in 1999. Both became very active in the community.
Jan continued to tutor and work with young students.Jo Berry, Adel Partners Director, invited Jan to improve the Adel Historical Museum and Jan has been the Volunteer curator for over 15 years.
Jan conceived the idea of an addition to honor Nile Kinnick Jr. and Governor George Clarke and has worked tirelessly for over 15 years to bring this to fruition. In 2016, the addition became a reality.
Besides working as curator of the Adel Historical Museum, Jan is an active member of the Adel Women's Club, PEO, Friends of the Adel Public Library, George Mifflin Dallas Questers, and St. John's Catholic Church and an Adel Partners Chamber Community Patron member.
The City of Adel and the Adel Partners Chamber is proud to honor Jan Price and all of her contributions to the wonderful City of Adel.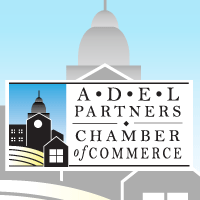 Adel Partners Chamber of Commerce
PO Box 73, 301 S.
10th Street, 2nd Floor
Adel, IA 50003
Email: chamber@AdelPartners.Org
Website: www.adelpartners.org
Facebook: AdelPartnersChamberOfCommerce