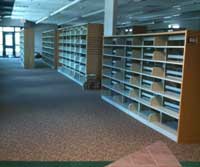 Courtesy of Adel Public Library:
The Adel Public Library has recently finished the 3rd and final stage of the library.
The back section of the second floor was completed with funds from the Library Foundation.
Now that the construction is finished the library will be closed August 14th to the 18th to organize the area and to move in books.
The staff at the library are excited for the public to see the newly remodeled 2nd floor.
Plans for a Grand Opening are under way and will be posted here and on the Library site once they are announced.
Library hours are:
(Closed August 14th to the 18th)
Mondays and Fridays, 10 a.m. to 5 p.m.
Tuesdays through Thursdays, 10 a.m. to 7 p.m.
Saturdays, 10 a.m. to 1:30 p.m.
Adel Public Library
303 S. 10th Street
Adel, Iowa 50003
Phone: 515-993-3512
website: www.Adel Public Library