Community Calendar Events
[ November 15, 2010; November 18, 2010; 1:30 pm; ]
Courtesy of the Adel Public Library
Join the Adel Public Library and Jacque Johnson, owner of Adel Quilting & Dry Goods Co. Thursday, November 18th and learn the art of making yo-yo Christmas ornaments!
This fun holiday event starts at 1:30 pm in the library community room.
This is the third program in a series of adult programming at the library.
Participants may purchase a yo-yo maker for $6 or learn to make
[ December 4, 2010; 1:00 pm; ]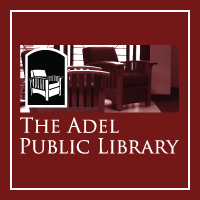 Courtesy of the Adel Public Library
The holidays can be a time of joy, but for some it is a difficult reminder of the loss of family and friends.
Surviving the Holidays: Making Peace Through Memories will be held at the library on Saturday, December 4th at 1 pm.
Attendees are asked to bring a photograph of their loved one to