Community Calendar Events
Courtesy of Adel Flowers and Gifts
Adel Flowers & Gifts is concluding the "Making A Difference" promotion September 30th.
Stop by the store and enter the name of someone whose day you would like to brighten! At the end of the month a name will be drawn to win a flower arrangement delivery!
Adel Flowers and Gifts will also hold a drawing September 30th for a chance to win
Join us for the 5th and 6th grade Club Volleyball!
Game day is Sunday, November 7th from 1:15pm-2:30pm in the ADM South Gym.
Once a Tiger, always a Tiger!
ADM School District
801 Nile Kinnick Dr S
Adel, Iowa 50003
Phone: (515) 993-4283
Website: www.adel.k12.ia.us
Join the ADM Tigers as they host the Volleyball Regional Finals Tuesday, November 2nd!
The 4A Regional Finals will start at 7pm in the ADM North Gym.
Competition is still to be announced, but it's sure to be a great night in ADM sports so show your support of ADM along side the students, coaches and facility that make our school district great!
Once a Tiger, always a Tiger!
The City of Adel announced today that a portion of the downtown business district will be without water service for a short period on Sunday, September 12th due to planned upgrades to the water system.
This was originally planned for Saturday but has been changed. Please plan accordingly.
The improvements are part of the Brick Street Rehabilitation project and are being coordinated through the City's engineer, McClure Engineering Company. The work involves upgrading and extending a water service main line from 4" to 8" and the line will be installed under 9th Street on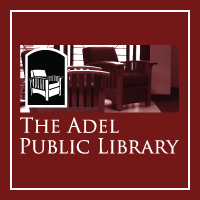 Courtesy of the Adel Public Library
Put on your Halloween costumes and come to Adel October 25th at 6:30pm for a Mystery Machine Halloween at the Adel Public Library!
Come and get your treats at this family night event.
Then, sit back and enjoy the movie "Scooby-Doo and the Goblin King."
Costumes